MOST RELIABLE ADDRESS FORMAT – NATIONAL ADDRESS!
The shipment address is the most important information required for delivering your package. Sending using National Address follows the best practices for providing destination address to avoid delivery delays.
NATIONAL ADDRESS :
SPL Corporation has developed the National Address system to provide a unified and comprehensive addressing system for all regions, cities, villages in Saudi Arabia.
The National Addressing system consists of six main parts, they are: Building Number, Street Name, District , City, Postal Code or Zip Code, Secondary Number.
REGISTER 
NATIONAL ADDRESS COMPONENTS 
RAGI2929
2929 Rayhanah Bint Zaid
8118, Al Arid Dist.
RIYADH
13337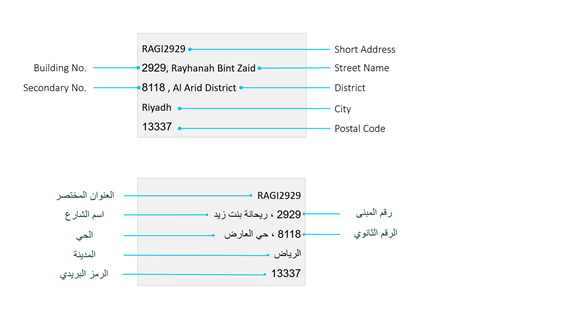 SHORT ADDRESS 

Short Address is a transformation of the long traditional address into a simple address created to make a unique address code that is easy to remember/memorize. It consists of 4 Letters (e.g. RAGI) assigned based on the postal codes and 4 Digits (Building Number ie.2929).
How do you fill any check out page with your national address?