WHAT IS THE NATIONAL ADDRESS ?
The council of ministers issued the Resolution No. (252) by 3rd of June 2013, agreeing upon the arrangement of "activating of the specific elements related to residential or commercial addresses mentioned in the civil affairs constitution, residential, commercial registration regulations". Kingdom of Saudi Arabia adapted digital addresses through the development of national address; which is an addressing system that represents the geographical footprint of every individual (citizens and residents).
NATIONAL ADDRESS COMPONENTS 
RAGI2929
2929 Rayhanah Bint Zaid
8118, Al Arid Dist.
RIYADH
13337


Building Number: Represents either a commercial building or residential building
Unit Number: Represents the number of each unit inside a multi-unit building such as a residential building or an office.
Street Name: Represents the exact location of a certain building, entrance or shop that exists between several of buildings.
Secondary Numbers: Refer to the coordinates to pinpoint the exact location of the building and consists of four numbers.
District: Represents the area that consists of all these buildings.
City: Represents all the areas as a whole with its different districts, street names and building numbers.
Postal Code: Consists of five digits, each digit has a significant location. This code covers a specific geographical area such as a district or any residential community.
SHORT ADDRESS

Short Address is a transformation of the long traditional address into a simple address created to make a unique address code that is easy to remember/memorize. It consists of 4 Letters (e.g. RAGI) assigned based on the postal codes and 4 Digits (Building Number ie.2929).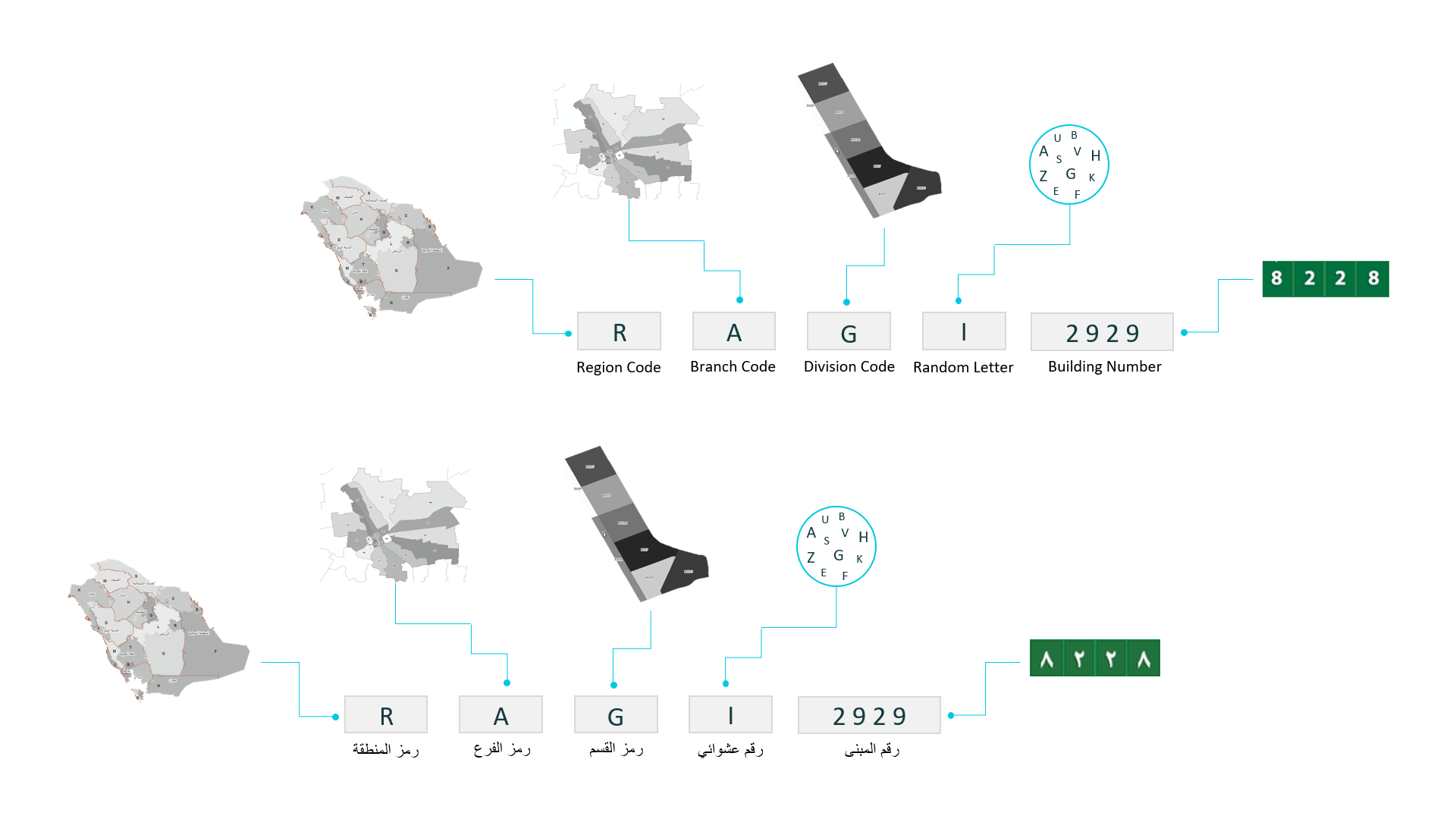 WHY USE THE NATIONAL ADDRESS ?

Whether it is an ambulance that you need or a shipment, National Address will identify your location precisely and provide you with the most convenient addressing service for free.
Reliable address: Issued by a government owned company (SPL) which determines it through a unified address system that includes all regions of the Kingdom, including cities and villages
Practical code: Coded as a simple unified formula that consists of six parts: building number, street name, District, city, the postal code, and secondary number
Essential requirement to key services: such as insurance, banking and financial services
Accurate location: National address ensures accurate location for your shipments, parcels and delivery couriers

NATIONAL ADDRESS IN BUSINESS 

Logistics sector
National address provides both commercial and governmental entities that have logistical operations at their core with accurate geographical location. Geocoded addresses based on the National Address schema can provide those organizations with the appropriate tools to enhance their service quality and efficiency.
E-Government & E-Commerce 
National Address acts as an enabler to multiple government agencies to provide their services (e.g., delivery of Passports, National ID cards, Driving Licenses…) By using information of logistical infrastructure.
From eCommerce perspective, National Address has been a primary catalyst for various organizations that deliver to a dispersed consumer base within the Kingdom.
Research & Development 
National Address is a key building block in the infrastructure required for statistical operations within the Kingdom of Saudi Arabia. Having a geocoded database of location data of each physical unit and building in the Kingdom can be enriched to with demographic data as age, gender, educational level, marital status, income level.
Research institutes: Geodemographic data has enabled multiple security agencies to plan and enhance the security level of communities.
Healthcare: Patient records respond to patient address information and relocation info to further plan medical supplies and hospital staffing. And during COVID-19 lockdown, National address allowed pharma delivery to patients safely and accurately at their homes.
Public Services & Facilities 
Postal services: National Address makes it possible for e-postal services to provide its services to client's residence or place of the headquarters of their business
Ambulance Services: National Address enables ambulance teams to determine the events and sites accessible by leaps and bounds
Health services: Health records of patients within hospitals can determine the health of patient's sites and thus serve them better, also contributes in identifying infectious diseases and works to control them
Fire services: Firefighters are able to identify risk areas and sites accessible
Utility services: Service providers are able to deliver utility services ensure the effectiveness and quality of services provided
Educational services: Schools will be able to sign up students and for the Ministry of Education to distribute according to schools within the area